Coating Your Commercial HVAC Coils
Choosing a quality coating shields your coil from corrosion and the unexpected costs that come with it.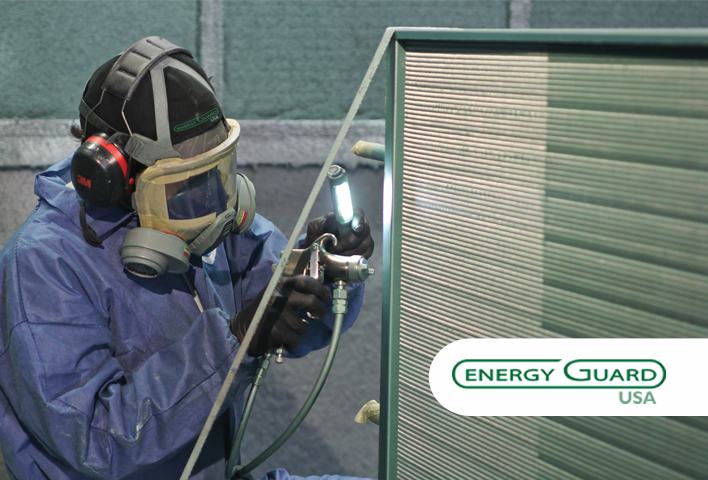 Over time, your commercial HVAC coil will naturally degrade due to environmental or galvanic corrosion. The result from deterioration is increased energy and maintenance costs, as well as the need to potentially replace the unit's coil sooner than expected. One of the most effective means of prolonging the life of your coil is to add a protective coating.
Coating your HVAC coil provides resistance to corrosion from an extensive list of contaminants and help keeps your unit running at optimal performance — even under severe environmental conditions.
Which coil coating should you choose?
Over the years, we've worked with many different types of coil coatings, each offering their own unique coating process and quality testing. We've had the benefit of seeing firsthand how various coatings perform throughout the lifespan of the coil. Although there are a number to choose from, one of our most preferred coatings is Energy Guard USA.

Why Energy Guard?
During our time using Energy Guard to protect our custom and OEM replacement coils, their coatings have proven to be some of the best in the industry. Offering a cost-effective, sustainable solution against corrosion, here's a quick rundown of what makes them standout: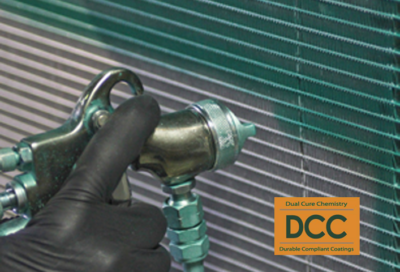 • Their exclusive DCC formula (Dual Cure Chemistry) penetrates deep into all areas of the coil and cures to touch in about 15 minutes, greatly reducing labor and handling costs.
• Coating is manufactured with 30% aluminum flakes, increasing thermo-conductivity and maximizing heat transfer. Anti-microbial properties resist mold and mildew.
• At just 1 mil thick, about the thickness of a human hair, their coating will never chip, impede airflow or negatively affect performance.
• Coated coils endure 10,000-hour salt spray tests (ASTM B117), one of the most rigorous coating tests in the industry.
• Their high solid, low VOC polyurethane means an Energy Guard USA coating has a low percentage of volatile organic compounds, making it environmentally friendly.
• Expert certified technicians manage all coating processes ensuring the highest quality application.
What Does it Cost to Have a Coil Coated?
Coating costs vary depending upon the coil design, which includes square footage of the coil, as well as the rows and fins per inch. When you get a quote for a custom or OEM replacement coil, be sure to ask about including a protective coating at that time, which will be more cost-efficient. Although it's possible to coat a coil after installation, there are various upcharges involved in such a process.
Does a Coated Coil Last Longer?
The simple answer is yes. When maintenance protocols are adhered to, a coated coil has the potential to last twice as long as an uncoated coil.
One important thing to remember, if your coil is coated it is not any less likely to become dirty or get clogged, so it is critical to still clean the coil the same as if it were uncoated. A coating purely protects against corrosion, not dirt build-up. Cleaning the coil will ensure the coating remains in optimal condition to effectively prevent against corrosion for years to come.
The Nationwide Coils Blog is a commercial HVAC blog written by industry HVAC experts with almost two decades of industry experience. We offer invaluable insights into commercial HVAC products and services and invite you to email us anytime.