COVID-19, UV-C light and Coil Coatings: A New Era in Commercial HVAC.
As industries introduce UV-C light to improve indoor air quality, coil coatings are at risk for being compromised. One company is leading the charge against coil coating decay from UV-C exposure.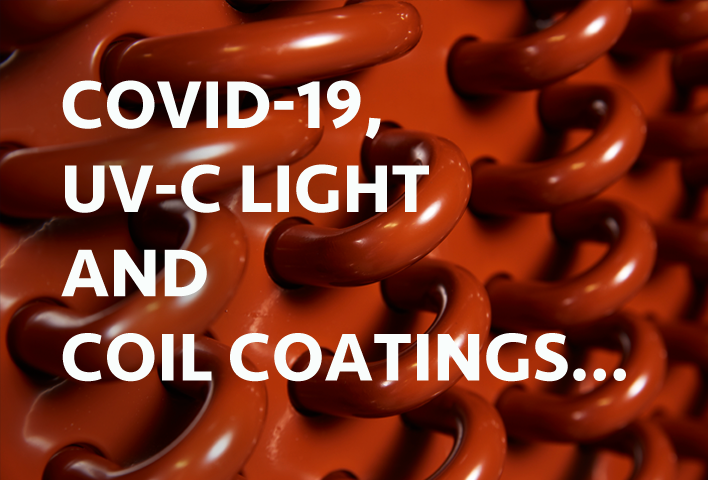 If you're an HVAC professional, you know the industry standard for safeguarding coils from environmental and galvanic corrosion is with a protective coating. Recently, this method of shielding coils from deterioration has been put to the test with the surge of COVID-19.
As businesses closed then carefully prepared to reopen, they mobilized to improve their HVAC systems in an effort to reduce airborne virus transmission and support healthier indoor air quality. Some upgrades included the use of UV-C light, a short-wavelength, ultraviolet light that has been shown to destroy the outer protein coating of the SARS-Coronavirus (SARS-CoV). This specific type of coronavirus gained global attention in 2003 and is the virus that causes SARS. The novel coronavirus identified in 2019 and what the world continues to battle at the date of this article is SARS-CoV-2, or more commonly known as COVID-19.
Although the two coronaviruses are different, the success in UV-C light destroying SARS-CoV has facility engineers hopeful for its use against COVID-19.
Today, the effectiveness of UV-C specifically on the COVID-19 is unknown because there is limited published data about the wavelength, dose and duration of UVC radiation required to inactivate the SARS-CoV-2 virus.
A New Challenge in HVAC
While UV-C light does have proven air quality benefits, it also has shown to represent an obstacle for commercial HVAC systems. Although UV-C light has no effect on the metals used to make HVAC coils, it does have the potential to break down coatings used to protect the coils from environmental corrosion.
Unfortunately, the most common tests used to determine the anti-corrosion performance of HVAC coatings, such as ASTM B-117 and ISO 12944-9, do not test against UV-C light. ISO 12944-9 is a cyclic test, alternating between 72 hours of UV exposure, 72 hours of salt spray, and 24 hours of freezing for 25 weeks, but the UV exposure is to UV-A light, not UV-C. ASTM B-117 does not test against any kind of UV light at all.
Enter Heresite®

With this new challenge facing the HVAC industry, Heresite, a leader in protective HVAC coil coatings, has broken new ground testing a coating that withstands UV-C light exposure — their exclusive P-413 coating. It should come as no surprise that Heresite has led the way in the testing of their protective coatings against UV-C light, as they were the first company to test an HVAC coating against the ISO 12944-9 standard for extreme exposure.
The UV light test, conducted in conjunction with Sanuvox Technologies, exposed P-413 coated panels to 1,500 hours of UV-C exposure. The results of the test demonstrated that both the P-413 and P-413 + UC-5509 panels maintained their protective integrity after UV-C exposure. Although both panel sets experienced some fading, neither system had a loss of adhesion or change in flexibility.
A Proud Heresite Partner
Since we opened our doors 16 years ago, Nationwide Coils has called on Heresite for some of the highest quality, durable coatings in the industry. Our partnership with them has helped us manufacture more reliable custom and OEM replacement coils. Their recent efforts in advancing coil coating testing just reinforces the trust we place in them for innovative products that outperform.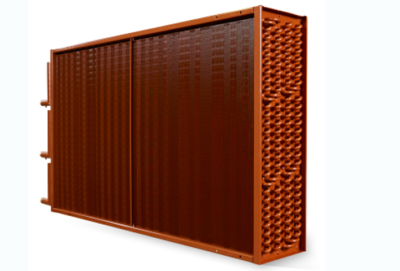 If you're thinking of using UV-C light to help your HVAC system improve indoor air quality, safeguard it with a coating that's proven to withstand UV-C exposure, as well as all other corrosion: Heresite's exclusive P-413.
Get a coil quote now.
To review Heresite's P-413 full test results, click here.