Taking a Closer Look at Replacement Hot Water Coils. (But not too close – they're hot, folks.)
With the cooler temperatures upon us, replacing hot water coils becomes more frequent. A quality replacement hot water coil is a cost-efficient option that delivers optimal performance…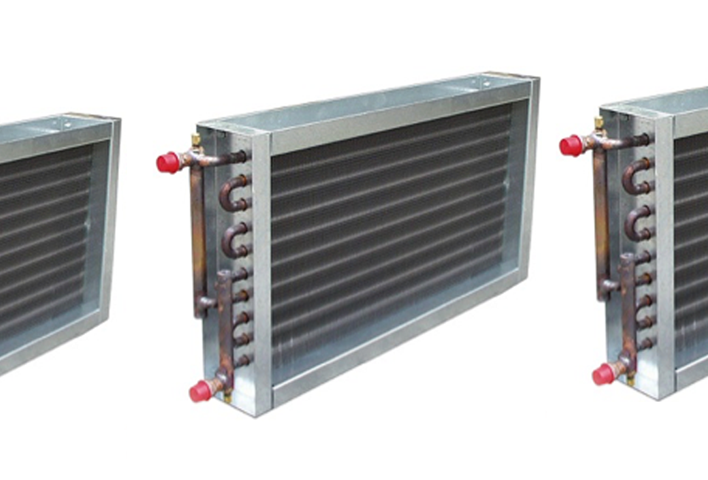 HOW A HOT WATER COIL WORKS
Hot water coils are tube-fin heat exchangers consisting of rows of tubes that pass through sheets of formed fins, bonded through tube expansion. As the cold air passes across the coil and contacts the hot fin surface, heat transfers from the hot water flowing through the tubes to the cold air entering the coil. This allows the heat transfer to occur.
Hot water coils offer a variety of applications, including energy recovery, reheating, preheating, booster heating and comfort heating.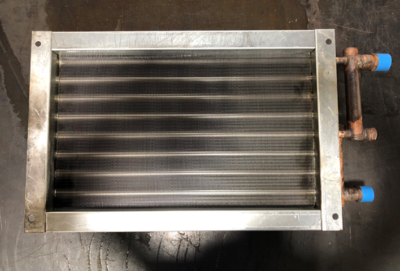 HOT WATER COIL DESIGN
Hot water coils are all very similar but have different materials of construction and design specifications, depending on the application.
Typically, they consist of 1-3 rows of tubes, although they can have more. Standard materials of construction are copper tube and aluminum fin coils with copper tubes available in 5/8", 1/2" or 3/8" thickness. Water can travel through the coil's tubes at temperatures of up to 200˚F.
In highly corrosive environments and food processing applications, the coils may be constructed with stainless steel tubes or fins.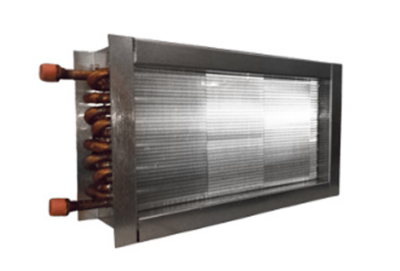 A hot water coil can be designed with or without a header. Without a header, it can be referred to by a variety of names, including a booster coil, a reheat coil, a heater core coil, and more.
The main purpose of a booster coil is to reheat the air that has cooled due to travelling through the ductwork to heat rooms on the other end of the building, away from the air handler. Sometimes, the hot water coil can have a collection header on the opposite end. This is often seen when replacing Heatcraft™/McQuay® hot water coils.
Over the years, we have built countless custom and OEM replacement hot water coils — from as small as a picture frame to as big as a wall — many of them being quality replacements for Carrier®, Trane®, York® and other leading brands.
SIZING A HOT WATER COIL
Hot water coils are relatively easy to duplicate for precision fit and performance. When sizing for a replacement hot water coil, we measure the fin height, fin length and count the rows wide.
When sizing for a new hot water coil application, we need the CFM (face velocity for hot water coils can be up to 1250 ft/m), entering dry bulb temperature, GPM (if available) and the desired capacity/leaving air temperature.
Should you be taking your own coil measurements, be sure to visit our blank coil drawings page which can help you accurately record construction details and sizing.
ORDERING A HOT WATER COIL IS EASY
At Nationwide Coils, we offer many custom options for your hot water coil, as well as select stock sizes that can accommodate all your commercial and industrial heating needs.
Should you have a question or would like to get a quote on a hot water coil, or any other replacement or custom coil, feel free to email us.
The professionals at Nationwide Coils are here to help make your job easier.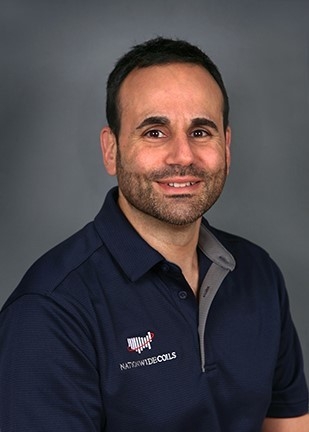 Written by: Andre Ostacoli
Nationwide Coils, Inside Sales Manager