"Get Your Fix" Part 1 of 10: Carrier® Aquasnap 30RBA, 30RBB and 30XAA
Welcome to our top ten commercial OEM condenser coils that have had issues while in service over the past decade. The first in our series is the Aquasnap 30RBA, 30RBB and 30XAA.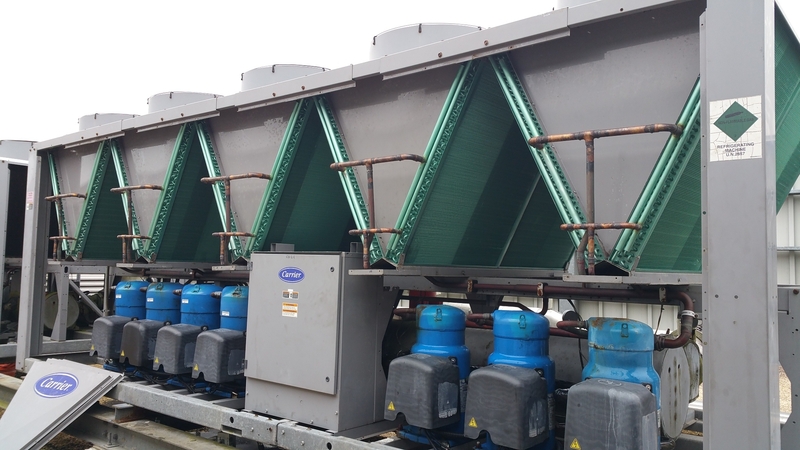 As all OEM condenser coil units are not created equal, we often see repeat offenders in the troubleshooting department. With a little insight into problem-prone units and how we improve them, you'll be one step ahead of an issue, should it arise.
Some of the most common units that need the condenser coils replaced are the Carrier® Aquasnap 30RBA, 30RBB and 30XAA.
The unit comes with 2 options for the condenser coils:
1) All-aluminum microchannel coil (spoiler-alert: this is part of issue)
2) Standard copper tube and aluminum finned construction
These units have a range from a total of 4 condenser coils per unit (60 ton) up to 24 condenser coils per unit (390 ton). When a customer contacts us and says that they have the all-aluminum microchannel coils in their unit, that is the first problem. We strongly suggest replacing them with the standard copper tube and aluminum finned construction.
We have perfected a microchannel conversion for this unit where the new copper tubes and aluminum finned coils slide right in with perfection. Viola! The only additional step to take when going from microchannel to a standard copper/aluminum coil is that you MUST complete the circuit. Meaning, if the circuit has 6 microchannel coils in it but only 2 are leaking, you must change ALL 6 condenser coils in order for it to work properly.
When we make replacement condenser coils for this unit we usually use .020-thick copper tube wall to strengthen the coil and add to its lifespan. This thickness is even greater than what was used by the OEM. This is yet another example of how our replacement OEM parts are equivalent, if not better, than the name brand products.
Nationwide Coils is a master at taking an OEM condenser coil with design or material issues and upgrading it to be more durable and leak resistant, as well as longer lasting. In addition to changing the materials to a thicker copper or aluminum, as mentioned above, we can also slightly modify the coil design or even add a special coating.
The Nationwide Coils Blog is a commercial HVAC blog written by industry HVAC experts with almost two decades of industry experience. We offer invaluable insights into commercial HVAC products and services and invite you to email us anytime.