"Get Your Fix" Part 2 of 10: YORK® YLAA
Back to our top ten commercial OEM condenser coils that have had issues while in service over the past decade. Coming in second is the York® YLAA series..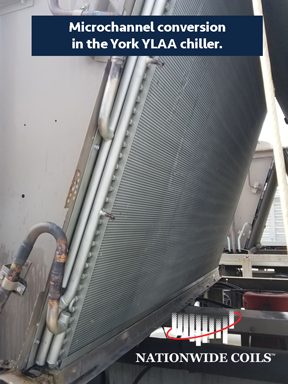 As we continue with our coil issue countdown, we get to the YORK® YLAA chiller — a model that is no stranger to operational issues, as well as inferior durability in its MCHX condenser coils. Fact is, we get calls weekly from contractors and end users about the YORK YLAA chiller and leaks with the original microchannel coil.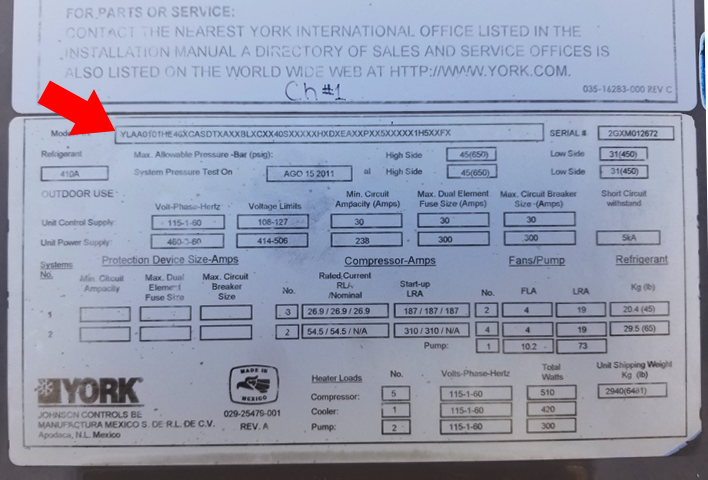 Overall, we find customers displeased with the durability of this OEM model and, as such, this has hurt York's reputation. Although York did make the unit with both options — microchannel coils and copper tube coils — we rarely see this unit with the higher-grade copper tubes.
The usual suspects
The most common YLAA units we see are the Style B, which are made with the microchannel condenser coils in both the standard and high efficiency units.
How do you know if you're working with a standard unit or high-efficiency unit? Just look to the model number. For example, the S in YLAA0700SE stands for standard, where as the H in YLAA0156HE stands for high efficiency. Insider tip: if you see a "ZE" in the model number, such as YLAA0080ZE, then the unit originally came with copper tube coils.
So, what's the solution? #changethechannel
Converting the microchannel in the YORK® YLAA chiller to a copper tube condenser coil will make the unit much more reliable and easier to service while maintaining the OEM efficiency.
One important thing to remember: when upgrading the microchannel to copper tubes you must complete the circuit, as well as increase the refrigerant charge via the sub-cooling method. This means, if the YLAA chiller has one leaking coil but that singular coil is in a circuit that has four coils, you must change all four coils. Depending on the tonnage, YLAA units can have anywhere from 4 to 12 coils.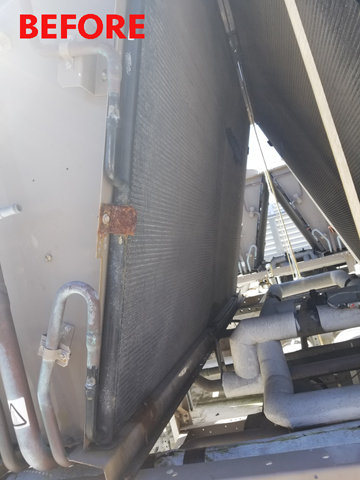 A York YLAA unit before microchannel conversion.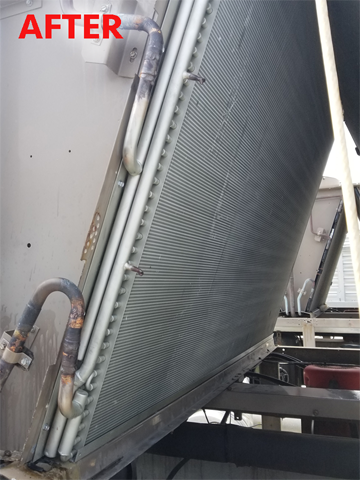 The same York YLAA unit with a Blygold® coating after converting the microchannel to copper tubes.
Should you only want one coil changed, we suggest contacting York and purchasing an MCHX coil from them directly. At Nationwide Coils, we do not change just one coil as this is merely a bandage fix and will not address the ongoing issues that occur with the York YLAA unit.
Although the YORK YLAA chiller is one of the more popular units we upgrade, we can do a microchannel conversion for literally any make or model.
The Nationwide Coils Blog is a commercial HVAC blog written by industry HVAC experts with almost two decades of industry experience. We offer invaluable insights into commercial HVAC products and services and invite you to email us anytime.